Guardiola splashes out on Man City defensive wall!
Ceballos deletes his tweets
AC milan attract the stars while Inter stand and watch
The golden boy
AC Milan's road to the UEFA Champions League!
Barcelona playing devil's advocate with Dani Ceballos!
No free treats for Cristiano's Portugal
Saul Niguez is too smart for Donnarumma
Diego Costa's dreaming of an Atletico Madrid
Cristiano's got an insatiable appetite for success
AS Roma spoil the party!
Ajax & ManU reach the Europa League final
Sweet dreams for Conte as the cockerel is silenced!
A tasty meal for Higuain !
Ronaldo adds Atletico to his list!
One by one, Mourinho is picking up points!
The General......
Atalanta capitalize as the old lady's mind is elsewhere!
Pep wins the possession
Hazard makes the difference
Rashford leads Man United to the semi finals while ibra & Rojo gets injured
No comeback at the Camp Nou!
Panic mode in Chelsea
Zidane uses his secondary weapons
Not on Zapata's watch!
Will Zidane's side survive April?
Ibrahimovic offside by his head
Luis Suarez always finds a way
The Eagles peck away at Chelsea
Could there be another rivalry between 2 giants?
Gianluigi Buffon caps 1,000th game
Mourinho continues his ascent
Pulis fuels the fire!
Disappointing UCL draw for the top teams
Man Utd players rescue Mourinho
A NEW NOVEL BY SHAKESPEARE
Pepe bursts Barca's bubble !
A penalty kick ruins Donaroma's heroic performance
Roma are being picked apart domestically and internationally
Zidane takes back the lead !
Zidane can't afford another slip up!
Caballero saves Guardiola!
Zidane's challenges!
Appointed referee no substitute for Hawk-Eye technology.
Liverpool's situation in the premierleague right now
The Premier League silences Guardiola!
Olivier Giroud makes history!
Conte's path to Premier League success!
Bayern's Matadors conquer the bulls!
America will be wary of Ramos waking up in stoppage time
Atletico Nacional requests cup goes to Chapecoense
Conte takes down top spot!
It's been a rough ride since Mourinho's departure!
Icardi takes on the Ultras!
Zidane with/without Casemiro
Meanwhile in LaLiga
Third time lucky for Ronaldo!?
La Liga race
Fabregas kicks Leicester City out of EFL Cup
Fifa gives up Ballon D'Or
Mourinho still blaming the referees!
MSN bulldozing their way to success!
Klopp conquers London
Balotelli rebuilds!
Enrique pays the price for his late decisions
Lessons learned from the Manchester Derby!
The Madrid sides look to escape FIFA's punishment!
Messi is back In the game!
Conte takes Luiz home!
Rakitic rescues Enrique's celebration
Marcus Rashford strikes again!
Ronaldo tries to console Griezmann!
They're all out fishing for their catch of the day
Sevilla's preseason is looking a little bit like this!
Michael Phelps simply isn't human!
Organizers are trying to restore the water color to its more natural blue!
Defense is the new attack!
Zlatan delivers success in Mourinho's first outing!
The Milan derby turns Chinese!
Schweinsteiger's fate.
Gameiro begins his Atletico career with an injury.
Ancelotti's Bayern side toyed with Inter.
Zlatan's first touches.
Everyone's fishing for their catch of the day.
Next... Paul Pogba
Klopp has no intention of stopping Mario's fall
7 vs 7
Mourinho mocks Wenger!
Wales burst Belgium's dreams
Quaresma stuns the white eagle!
Ronaldo surpasses Ibrahimovic!
Croatia send Spain off to Mama MIA !
The Swiss frustrate the hosts
Ronaldo vs Messi
Too hard for Ibra
England tame the Welsh dragon!
Ruidiaz slaps Dunga
real Madrid's stars maintain the European's shining
Payet the French savior
Messi's hat trick threatens Batistuta
Dunga's mission impossible
Real Madrid walk away with the prize
Zidane wins the battle of Madrid
Costa joins Al Haddadi
Giroud guns down Villa! Spurs, strangled
Pellegrini hands over the key to success
Saul slalom makes it advantage Atletico
Joe Hart saves the day !
Warning - Beware of the "Cannibal"
Klopp - LFC's mission impossible man
Cristiano Ronaldo the Savior!
Andy Carroll destroys the Gunners!
Tic Tac Toe
The young Red Devils strike again
United's European dream was saved by a youngster!
ManUtd's last 16 UEL hopes were punctured by Midtjylland
UNDER THE HAMMER !
Tango Sunsrise
There are no flies on Djokovic!
Injuries are striking Klopp wherever he goes!
The referee has been fighting for La Liga giants!
It was a historical night for Petr Cech!
Wenger received the worst Boxing Day gift of them all!
Ranieri needs to watch out for big clubs sniffing around!
Ozil gives Wenger a Christmas gift!
The fun continues for Barcelona & RealMadrid
Mourinho's dismissal has others worried!
Intriguing battles await in the Champions League!
Mourinho's lions outfoxed by Ranieri!
Will the knockout blows continue for Rafa Benitez
Juventus back in the race
Bournemouth target the big boys
The Foxes are running away with the EPL despite those hunting them down
Arsenal overcome the hardship and send the Greeks packing!
Ronaldo makes history through Shakhtar and Malmo!
EPL giants on the trail of the Foxes!
Mourinho trying to tame the beast
Garcia is the latest victim of Enrique and MSN
Welcome to Bernabeu Park
Costa's goalscoring has hit a brick wall this season...
The curse of number 7 continues for Depay!
Has Mourinho become a liability for Chelsea?
Nothing like the night of the champions
Adios El Clasico
Welcome to Stamford Bridge
Blues and Gunners share the same destiny
The old lady's dream is slipping away
It's a struggle at the top!
Barcelona's attack is driving them forward!
Two history-making legends face off tonight!
Al Ahli defeat Al Hilal to make ACL 2015 final
Does Mourinho regret comparing Hazard to Messi and Ronaldo?
Klopp, the new doctor for Liverpool
The FIFA virus spreads
Could Blatter's and Platini's high stakes game blow up in their faces?
Navas rescues Real and Arbeloa saves Atleti
Mourinho's Chelsea turning into a Kindergarten!
Despite all obstacles .. Abdul Mohsen scores
Caricature: Zenit's Hulk smashes the Batmen!
Ronaldo & Messi are finding it hard to score
Trouble for AC Milan as Inter emerge from the transfer market armed and deadly
Bert van Marwjick being saved
Holland being Squeezed out!
Rooney takes his place alongside Sir Bobby
He's been a fish out of water for Bayern
Serena on track to complete her Grand Slam collection
Heavy rain in the Asian Qualifiers
The wolves' Bosnian snipers hunt down the zebra
Arsenal counts on opponents defense to score goals
And the winner is: Mes....siiiiii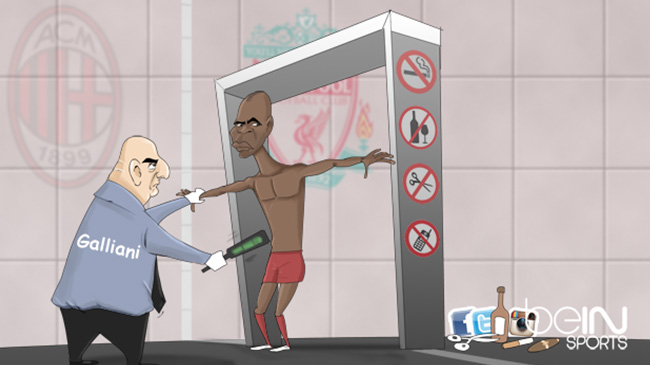 "Pedro" - Mourinho's Catalan weapon
Memphis and Feghouli power their teams to safety
What's next Mario Balotelli?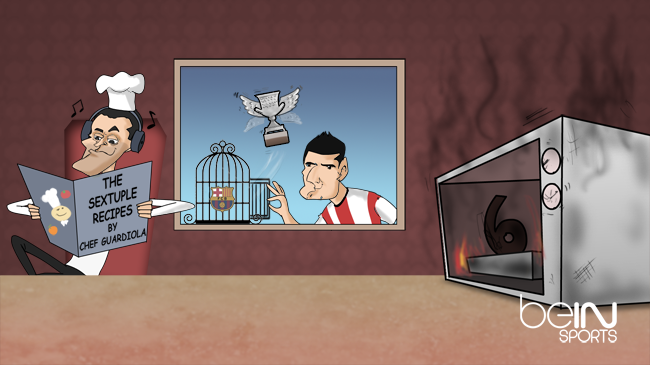 Enrique ruins last night's recipe!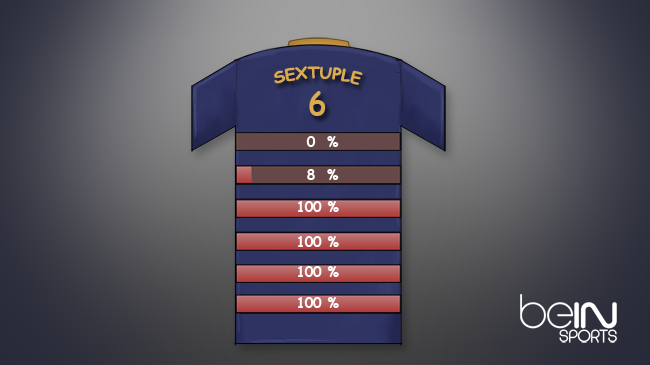 Barcelona still downloading the 'sextuple'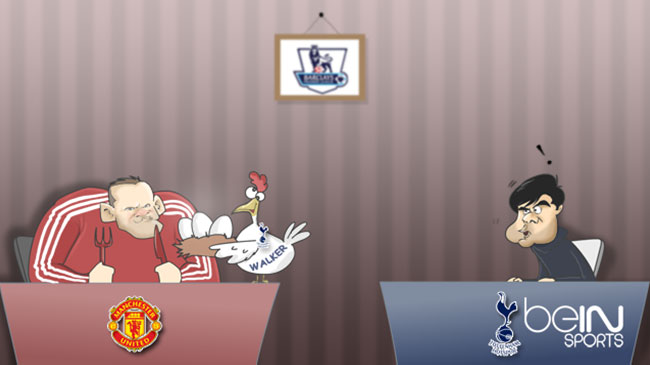 Walker puts 3 points on a plate for the wrong team
No easy escape for De Gea !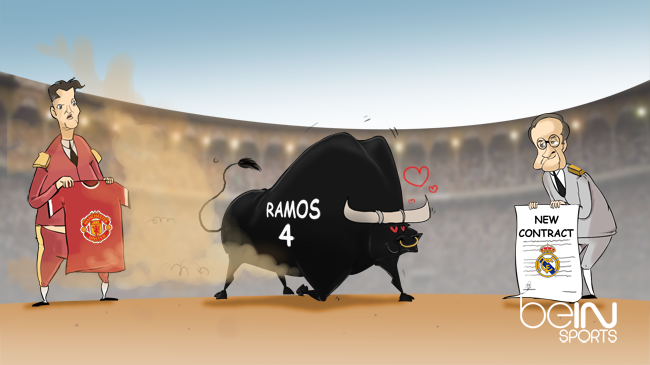 "Matador" Perez tames Ramos with a new contract
Benitez detroys the golden eagle with his new weapon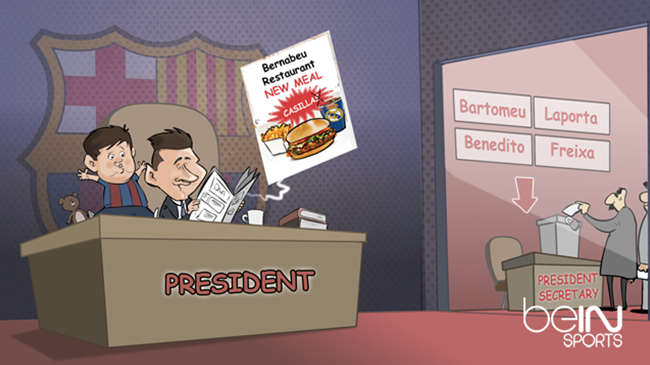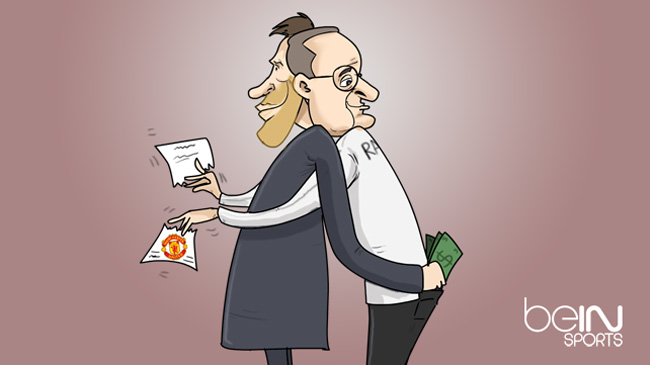 Perez and Ramos hug it out! Together for another season?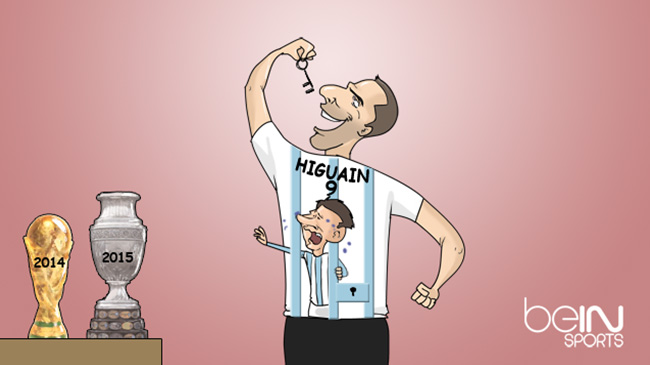 Higuaín still holds the key for Messi!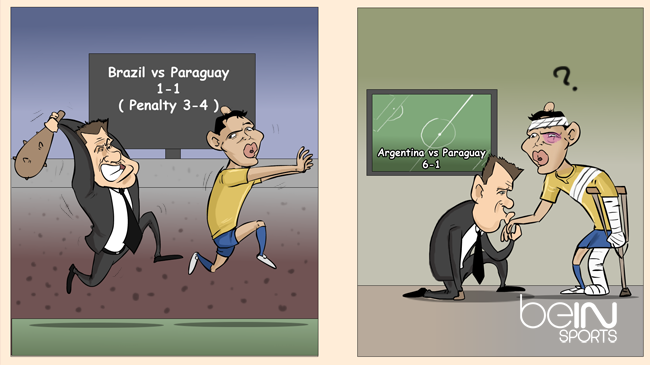 Tiagho Silva, Brazil's savior once again !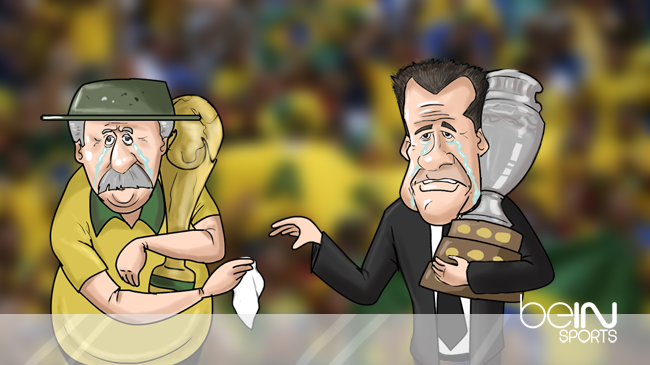 Dunga joins the Brazilian weeping choir!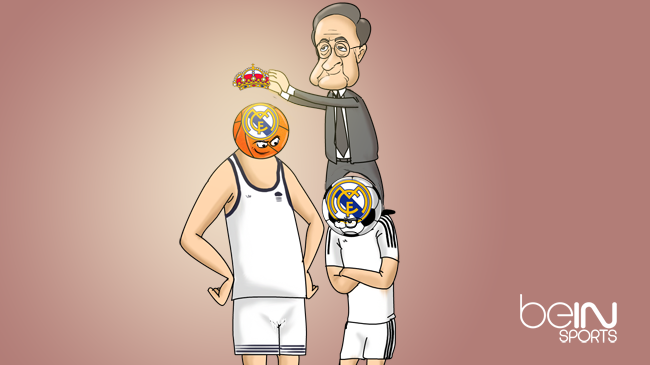 When basketball outshines football!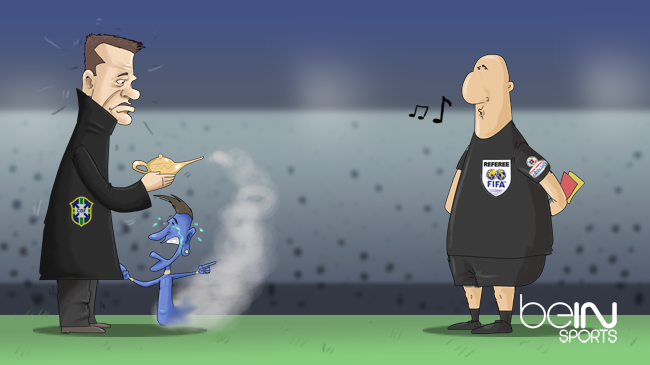 Brazil's savior complaining about Copa America referees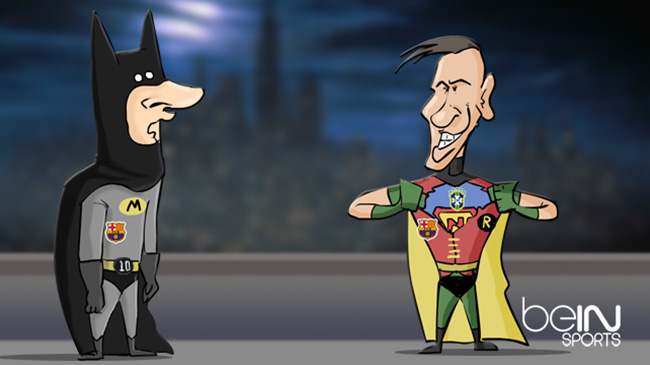 Neymar from an Assistant in Barca to a hero with Brazil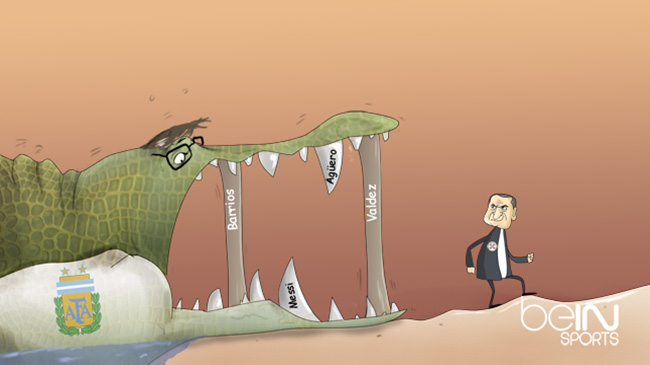 Valdez & Barrios saved Paraguay coach Diaz from a pointy situation against Argentina.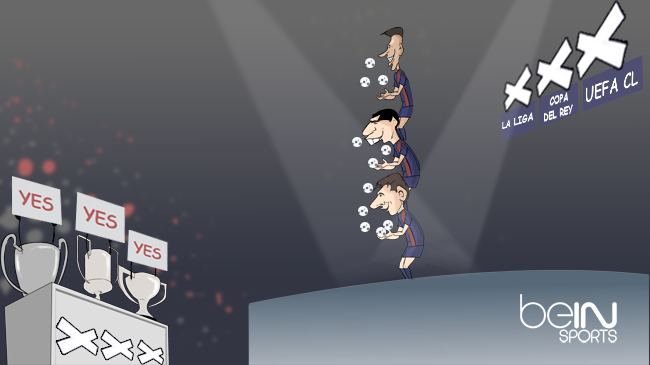 Treble Talent!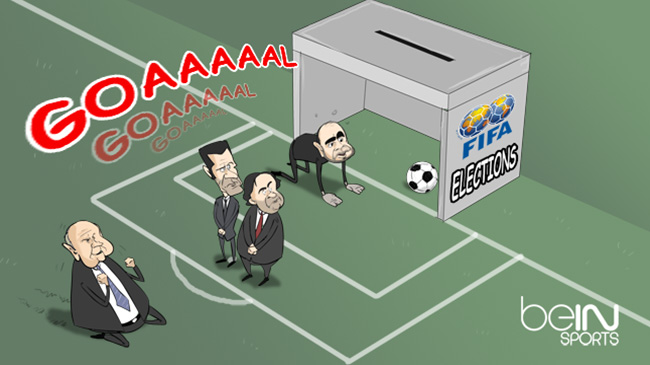 Sepp Blatter scores again.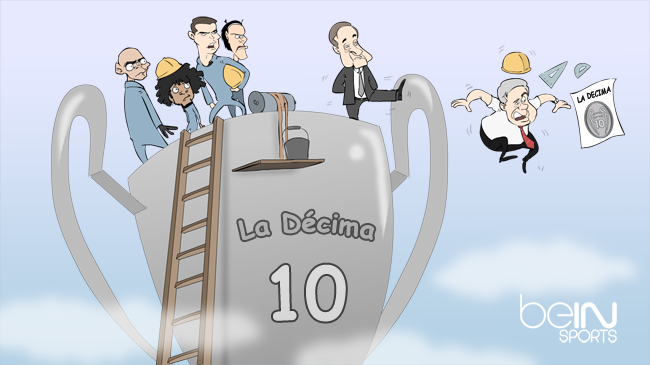 This is the thanks you get for delivering La Decima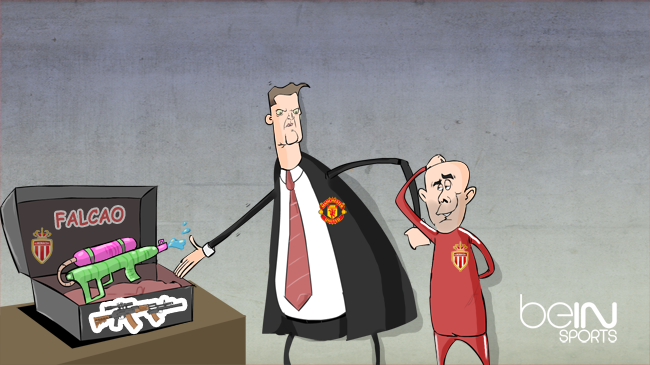 LVG: "You tricked me!"
New leaders in Barcelona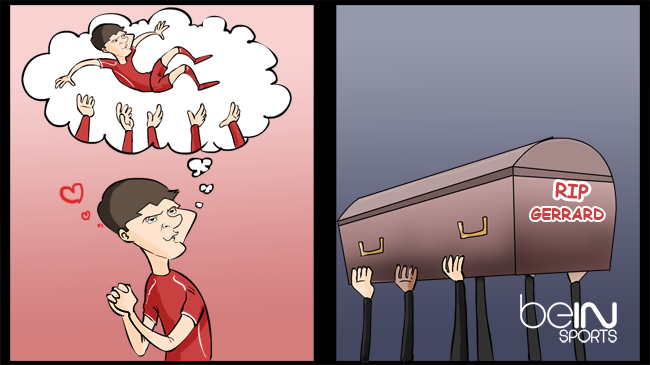 Stoke City hit the last nail in Gerrard's coffin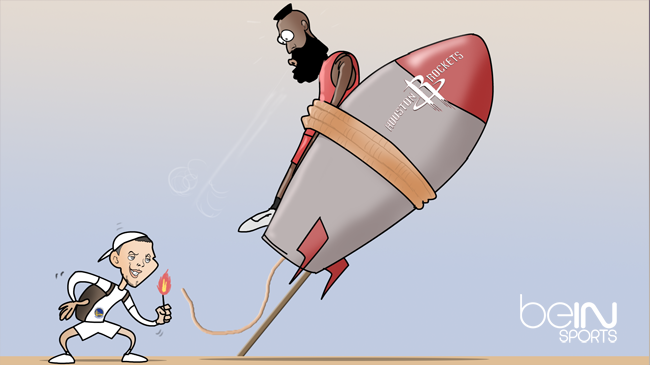 Harden was blown away by Curry in game one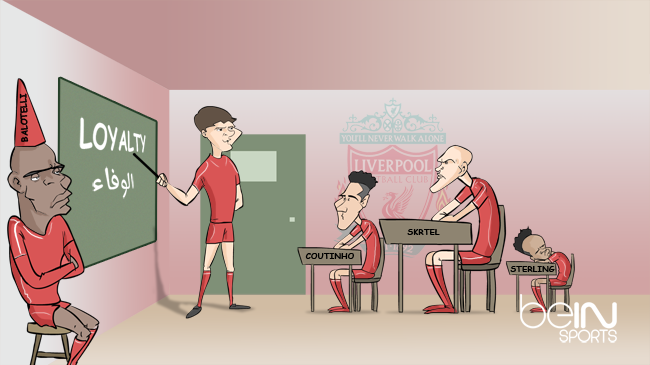 " Hey Sterling.. Wake up!"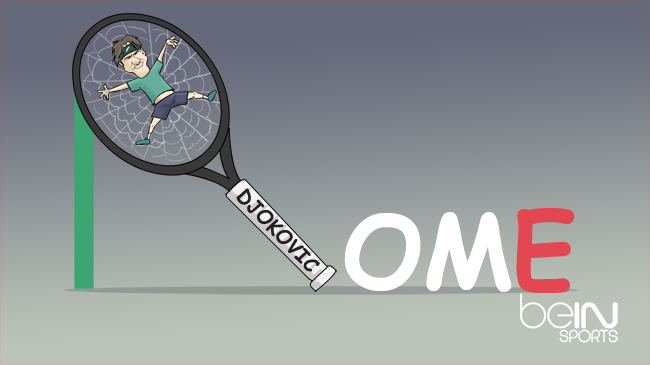 How to catch a fly by Djokovic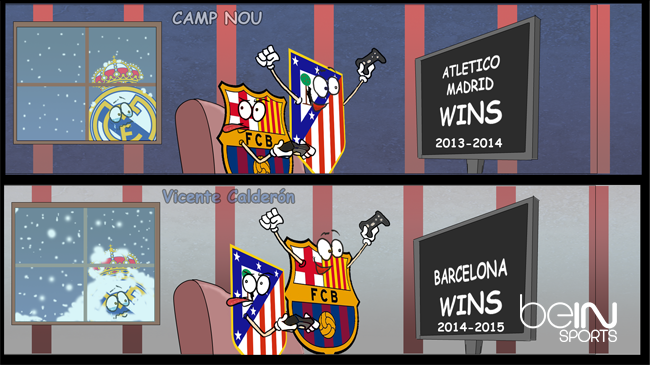 Barcelona and Atletico Madrid exchange places while Real Madrid are once again left in the cold to watch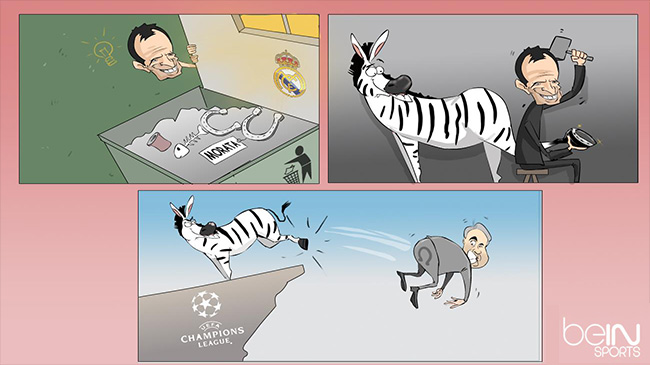 OUCH! Heartbreak for Madrid through one of their own!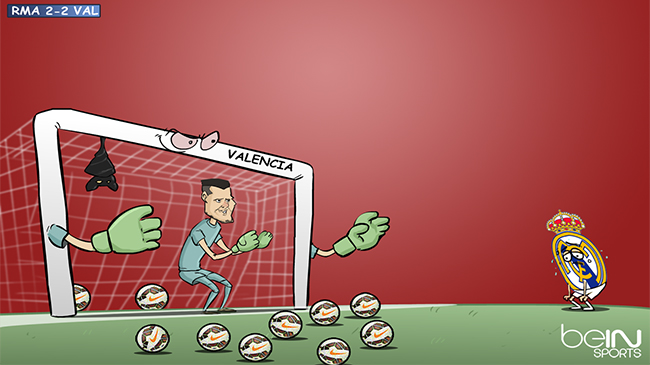 The bats spread darkness in Madrid!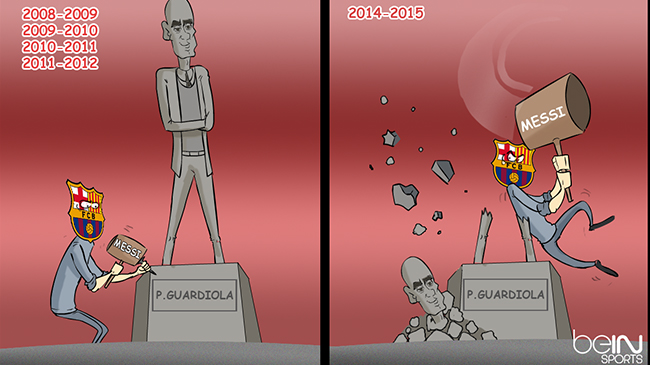 Pep gets a taste of his own medicine from Messi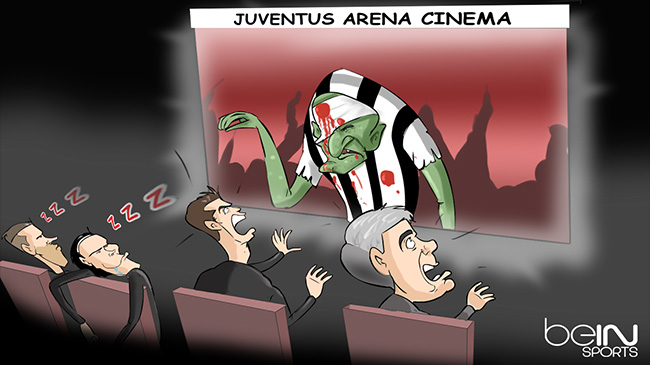 Chiellini will be giving Real Madrid nightmares for a long time after Tuesday's horror show
Emotion run high as Mourinho welcomes aboard another Premier League title forcing its rivals to taxi it home.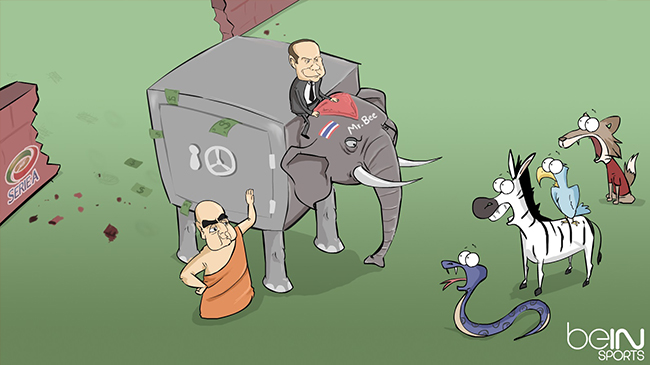 Mr Bee's big bucks will make AC Milan a team to fear once again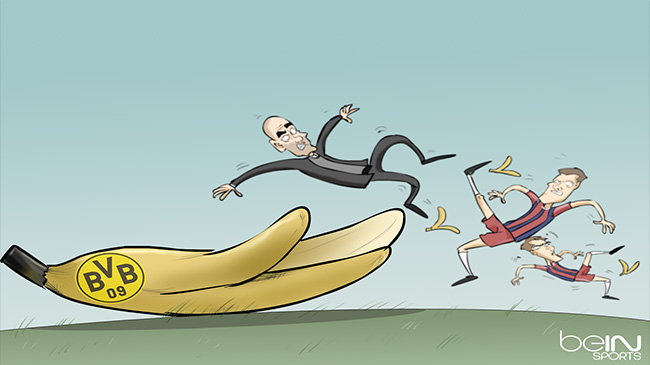 Bayern slip to defeat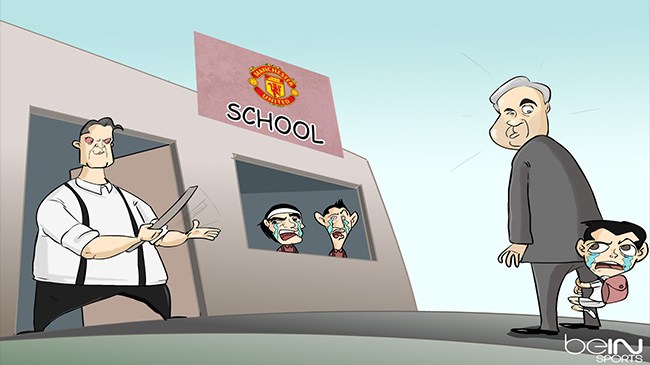 Caricature: Chicharito must really not want to go back to United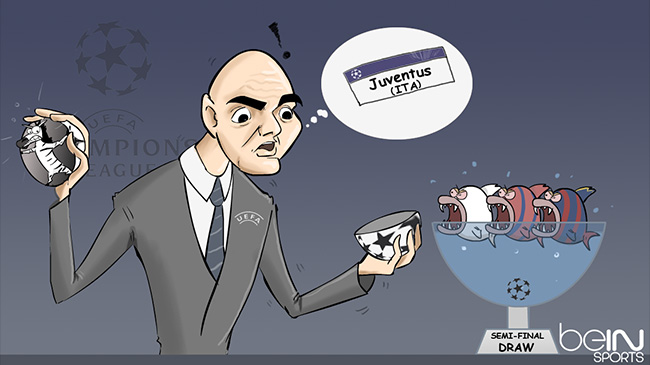 Caricature: The old lady must face 1 of the 3 predators
Caricature: Rey "Chicharito" Mysterio knocks Atleti out!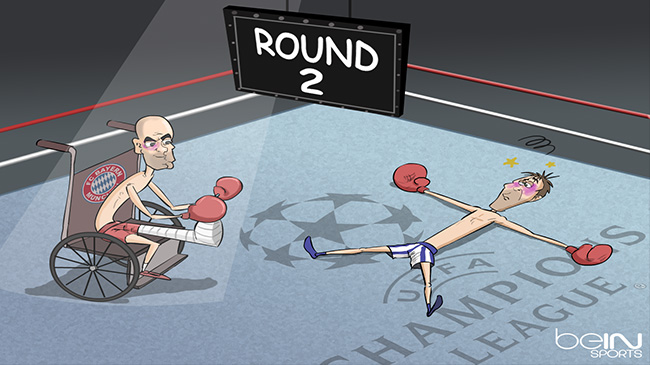 Caricature: A wounded Bayern knock out Porto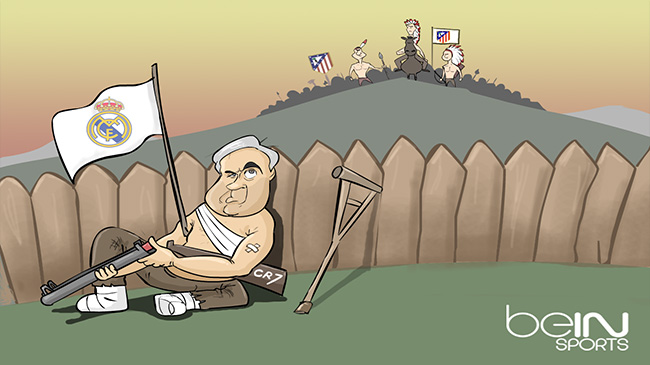 Caricature: Will the CR7 provide Ancelotti with enough protection against invaders Atletico Madrid?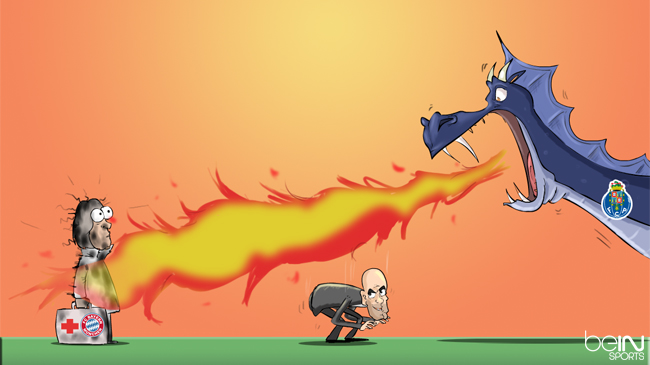 Caricature: Guardiola got off unscathed against Porto's dragons. The same can't be said for the team's doctor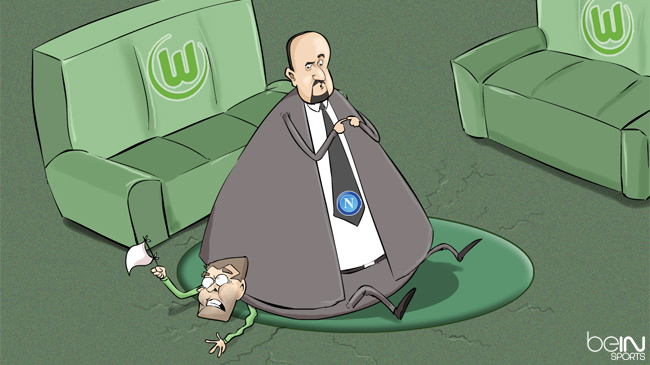 Caricature: The Volkswagen Arena was emptied as Benitez's side crushed Wolfsburg!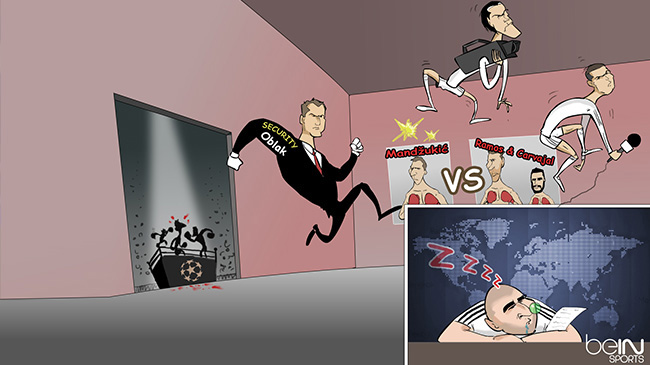 Caricature: Oblak the giant wall!!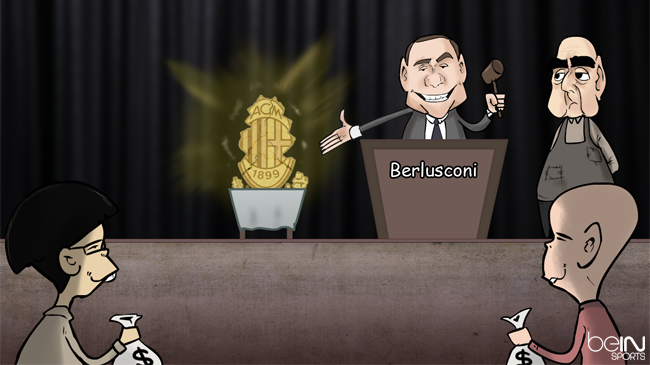 Caricature: is Berlusconi further damaging AC Milan?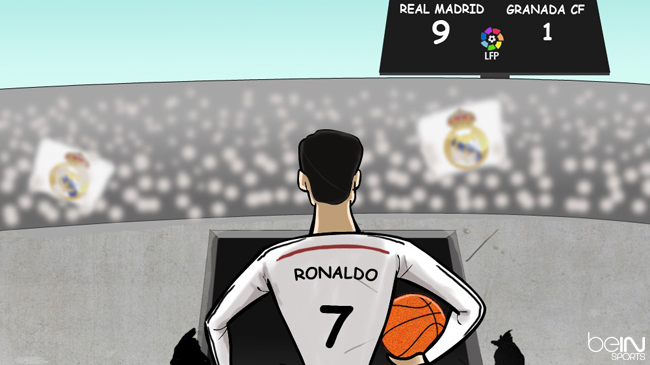 Caricature: Ronaldo and Real went close to racking up a basketball score against Granada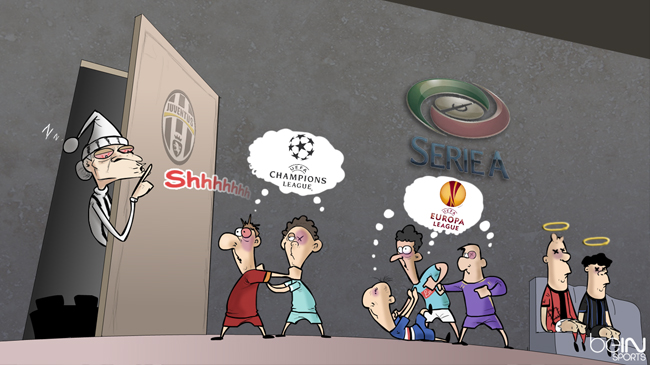 Caricature: The Old Lady has silenced it's competitors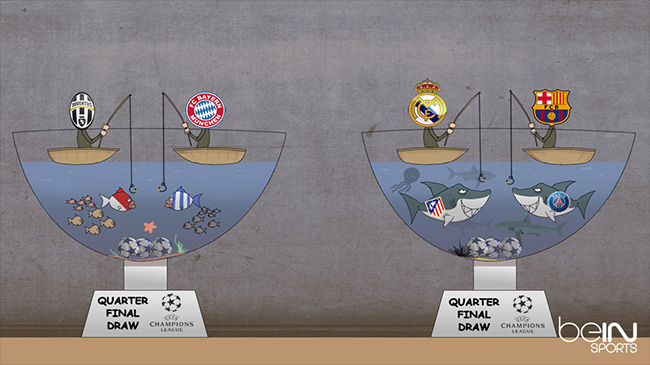 Caricature: The big fish will relish chance at biting the bait!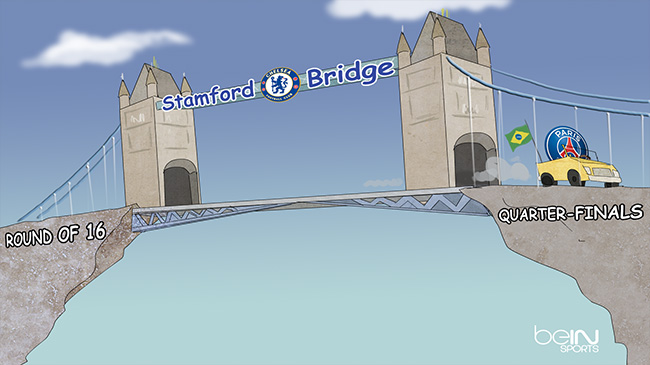 Caricature: PSG cross the big blue bridge!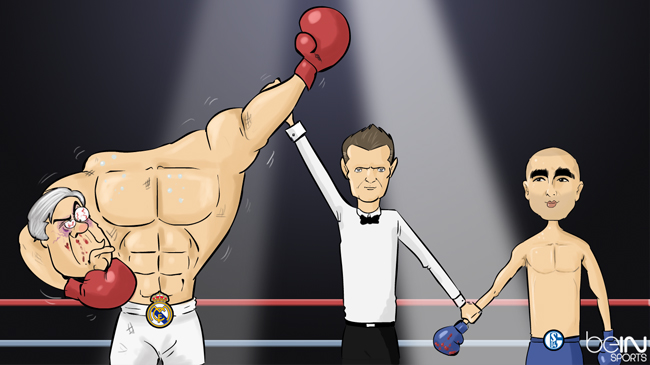 Caricature: Despite receiving some big blows Real Madrid still survived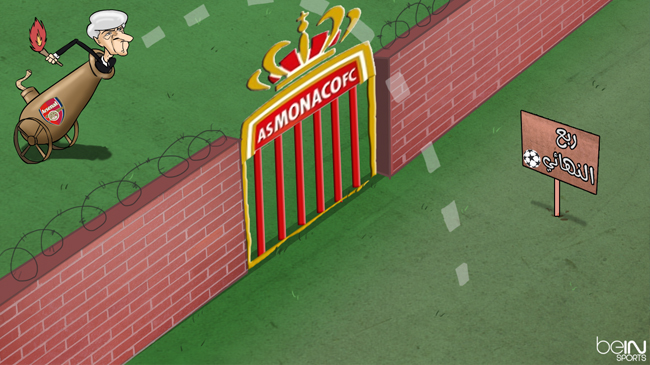 Caricature: Wenger's experience or a miracle for Arsenal tonight?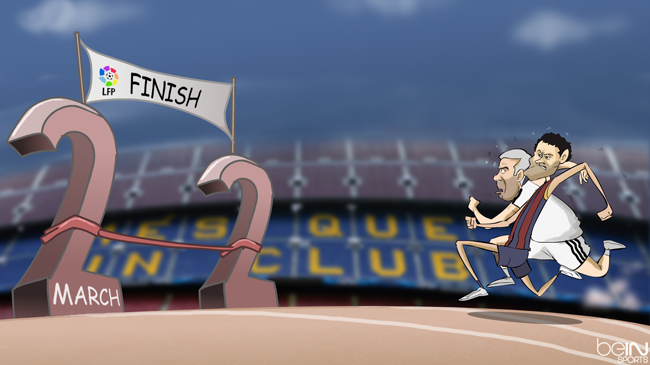 Caricature: Race after glory